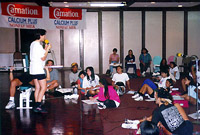 Invites all fitness professionals and enthusiasts to join its growing membership…
LEARN…GROW…NETWORK…
AND WORK TOGETHER.
The Association of Fitness Professionals of the Philippines (AFPP) offers its members educational seminars, fitness workshops, and lectures on health and nutrition.
It aims to develop professional ethics and moral responsibility amongst peers and clients.
AFPP intends to lift the level of fitness standards in the Philippines to be at par with the rest of the international fitness industry, by bringing in international consultants and the accreditation and certification of its members.
Be a part of
.
For membership information, please call Ms Ellen Jereza at 801-9376